History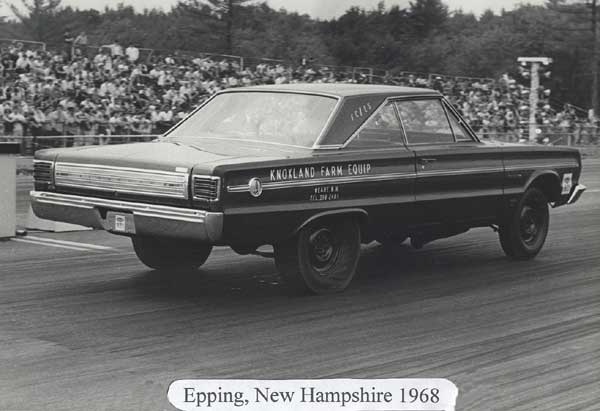 Most boys are playing with their hot wheels cars, but for Brian at age 4, this is well… this is where it all began… 1968…It was our first full season of competition racing super stock. This was our 1966 Plymouth Belvedere …under the hood … sat a 426 iron Hemi.
*We have restored a clone to this original car and it is street legal. We take it to occasional shows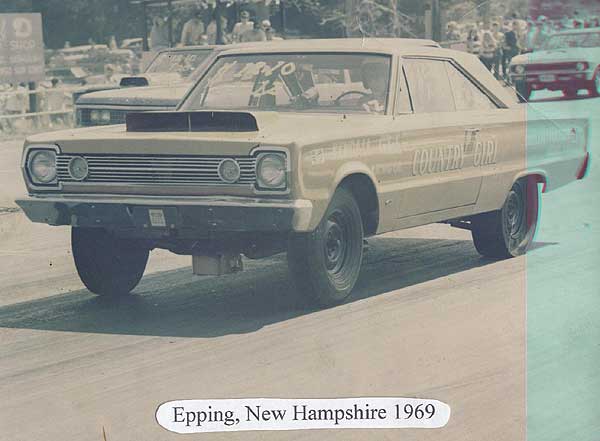 In 1969 we modified the Green Belvedere and painted it red. We then introduced the "Country Girl" name. This car held record for most "Top Stock" wins at New England Dragway in 1969. Also set track & National Record 11.64 @ 120 MPH.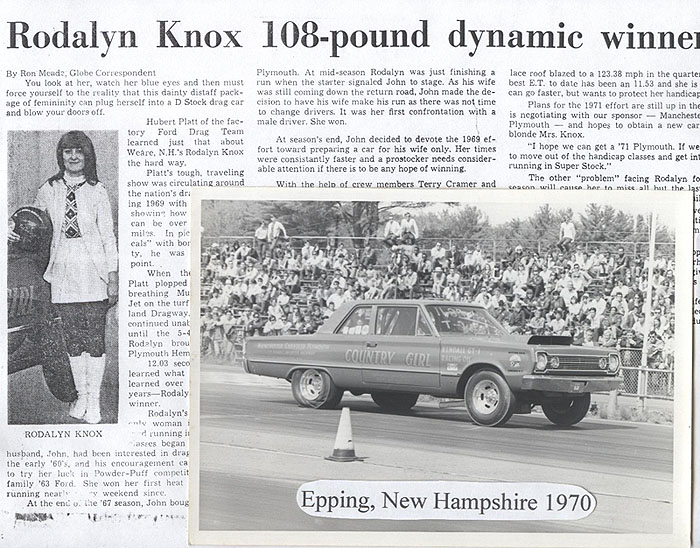 In 1970 we moved to a Belvedere I Sedan body as the previous Belvedere II hardtop model was getting a bit worn out in the chassis. This car ran 11.53 ET @ 123.3 MPH.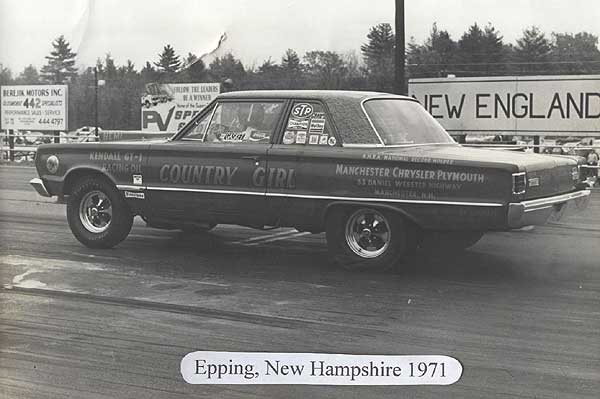 In 1971 we had limited participation as our second son Daniel was born in May. Rodalyn came back late in the season and went 11.31 ET @ 124.8 MPH. We then retired from stock/super stock to start our funny car career.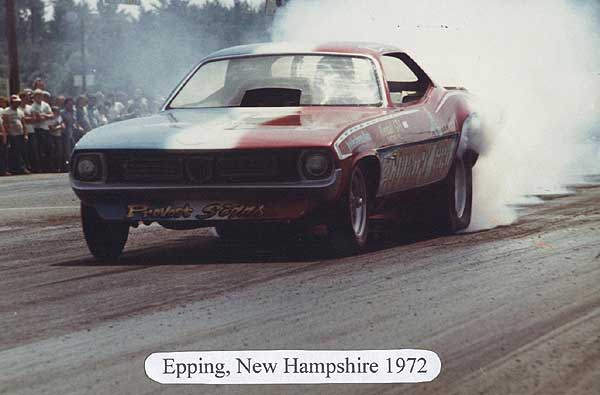 1972 was our first year with the Funny Car. A 1970 Barracuda. It had a fiberglass body on Logghe Tube Chassis B/FC, injected alcohol fuel cast iron Hemi. Rodalyn was the fourth female to get a Funny car NHRA Competition license.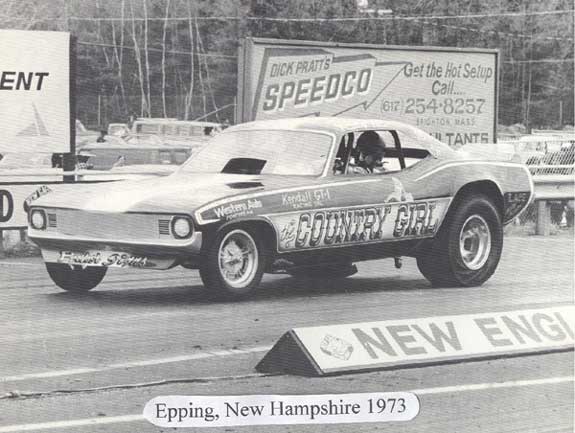 In 1973 we changed the 70 Barracuda to A/FC Class, Injected Nitro-Methane Fuel. We ran the East Coast Funny Car circuit. We ran 8.30 ET @ 160 MPH.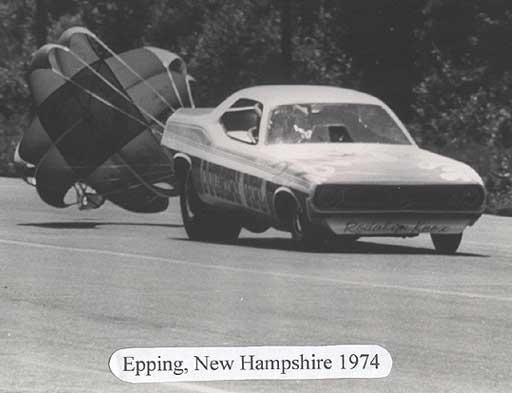 1974 was the year we went to a new style narrow & lighter Dragster style tube chasiss. With a 1974 Cuda fiberglass body. First alum. block Milodon SN: 008 and tunnel-ram manifold w/8 port blower injector on top. Nitro methane fuel. Our first full pass 7.96 ET @ 172MPH. Then went 7.50 ET @ 180+ before changing from A/FC to BB/FC supercharged Alcohol Fuel.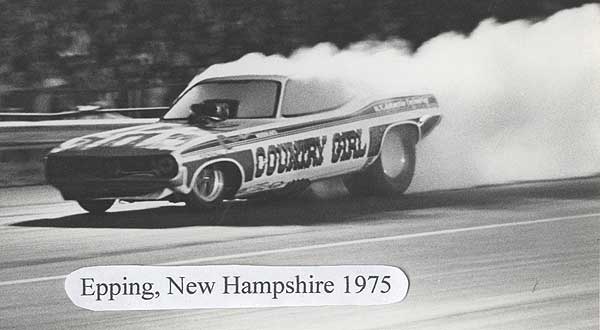 This was the first Supercharged Alcohol Motor Milodon Alum. 426 Hemi Block with cast Alum. Chrysler heads 8-71 Std. Helix Blower 478 C.I. We won several New England Dragway events and set NE Dragway ET Record 7.35 seconds we also set the MPH record 189.70 MPH. Rodalyn won Driver of the Year & we won Empire State FC Nationals. 7.22 ET @189MPH in Final. Brian was 11 years old.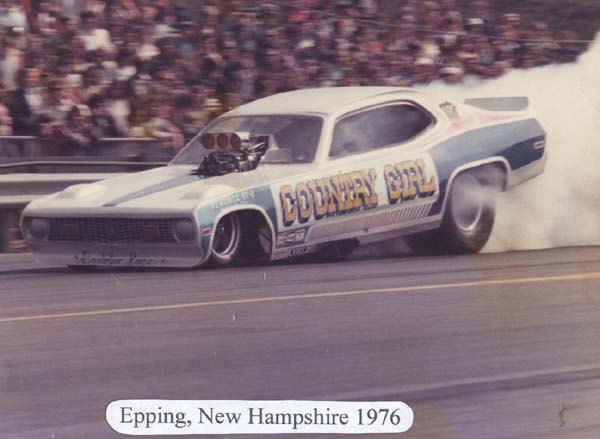 In 1976 we rebuilt the car and installed a new Plymouth Duster fiberglass body.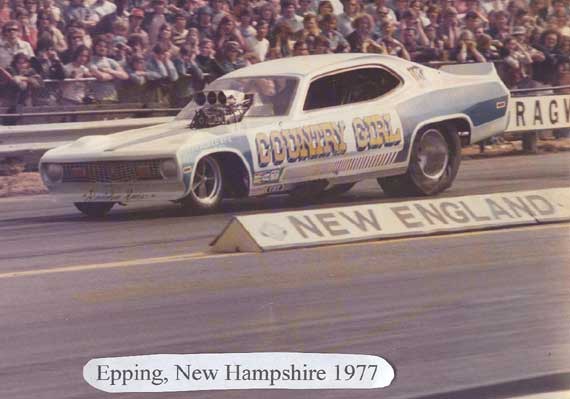 ]
In 1977 we won runner up at AHRA Grand American Race at New England Dragway. Best ET 7.15 seconds 192+ MPH.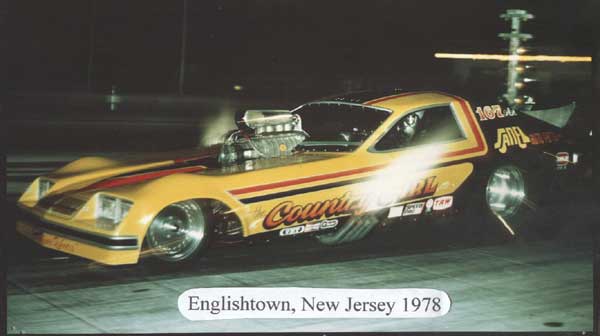 In 1978 we built Olds Starfire Body AA/FC Supercharged Nitro Methane Fuel. We ran the East Coast Match Race Circuit. Set 1/8 mile speed record at Oxford Plains Dragway, Oxford Maine. 178 MPH.
Best 1/4 Mile ET 6.40 Seconds Best 1/4 Mile Speed 228 MPH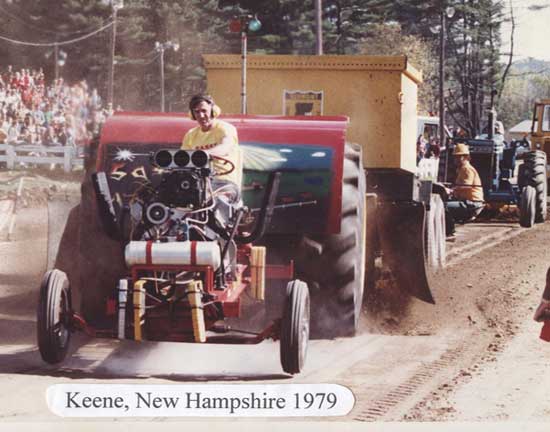 Our First pulling tractor. It was driven by our partner Eldon Townes. It had a 478 cubic inch Milodon aluminum block with iron heads and a 871 blower.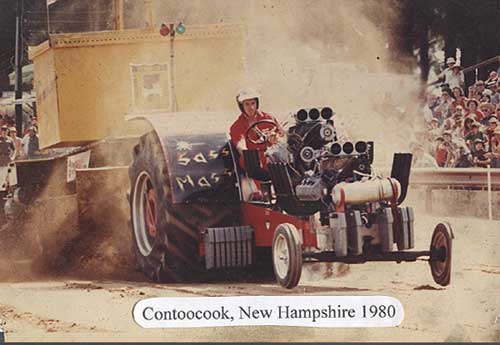 Our first multi engine tractor, this tractor pulled in the 5000, 7000, 9000, and 10,500 pound classes.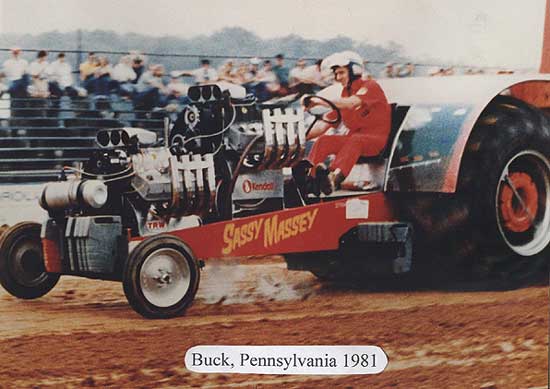 This Tractor had the same engines combination as our single engine tractor. We ran local events and started traveling to Region 1 and Grand National pulls in Virginia, Pennsylvania and New York.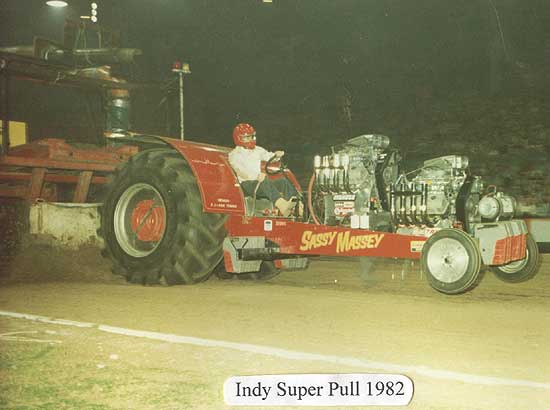 We won Region 1 Points Championship in the 7000 and 9000 pound classes, we also built our first 503 cubic inch engines but the Lenco 2 speed transmission and Clark loader planetaries did not like that.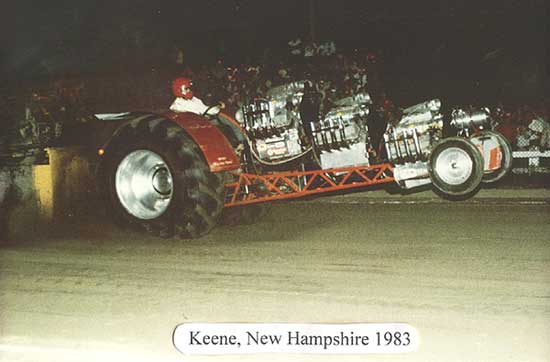 [
We built a new 3 engine tractor with a Kippley 3 speed transmission & 930 Cat Planetary rear end.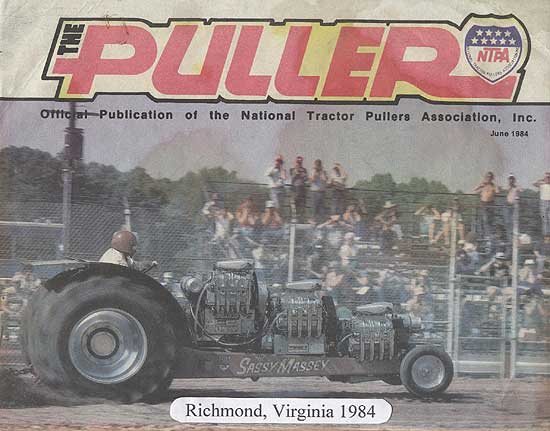 [intense_content_box icon="search" icon_color="#ffffff" size="3″ icon_stack_type="circle" icon_stack_color="#1a8be2″ position="topcenter" boxed="1″ shadow="0″ background="#e8e8e8″ border_size="1″ border_color="#a3a3a3″ border_style="solid" animation="bounce"]
This Tractor pulled with 2 engines in the 5200 pound class. We put on the third and ran in the 7200 and 9200 pound class also.
[/intense_content_box]
[/intense_timeline_event]
[intense_timeline_event type="custom" date="1985″ image_size="postWide" image_border_radius="5px" color="#e8e8e8″ use_content="1″]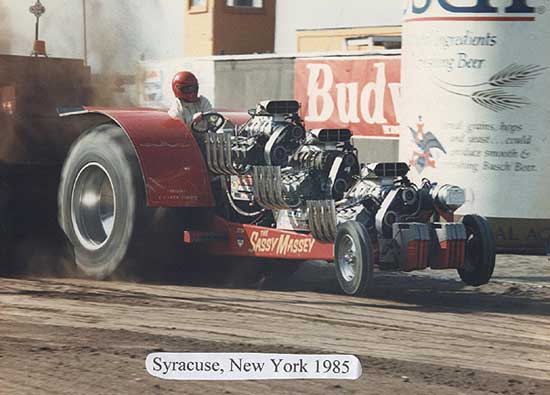 [i
We bought our first fuel injection flow bench and built the first duel fuel pump fuel system. Eldon Townes retired from driving and Rick Ilsley took over driving in September.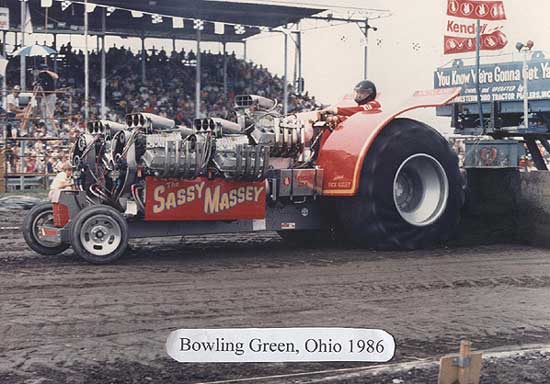 We built a new 5 engine tractor. It pulled with 2 engines in the 5200 pound class and 4 engines in the 7200 pound class. We added the 5th engine and ran in the 9200 and 11,200 pound class.
]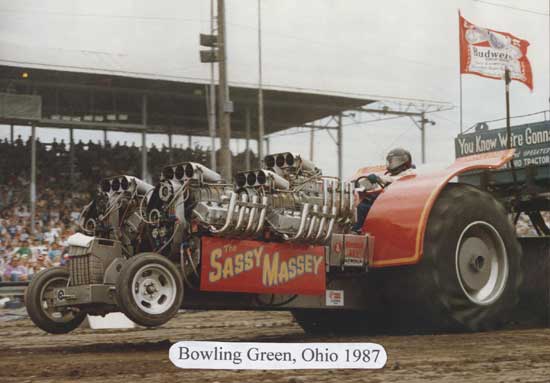 Phil Patterson took over driving and we pulled a lot of TNT and Grand National pulls. This was also the year we put on our first 1471 blowers.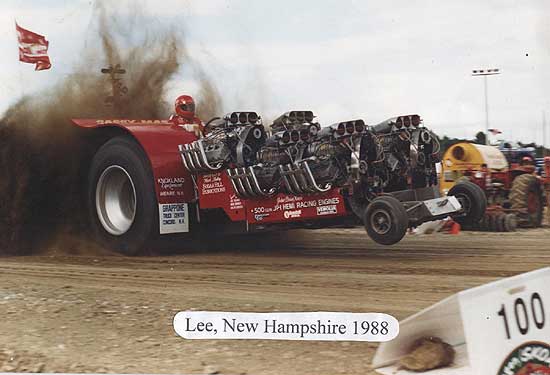 [
We built a new tractor which was 1 of the first 3 that had direct drive gearbox with no transmission. It pulled the 7200 pound class with 4 engines and the 9200 and 10,000 with 6 engines.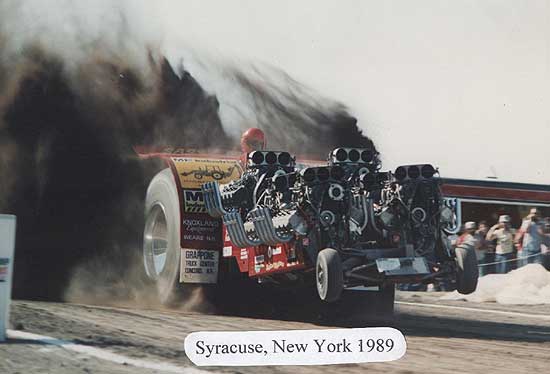 We bought our first Ken Veney Billet Heads. Phil Patterson retired from driving and Rick Ilsley finished out the season driving.
[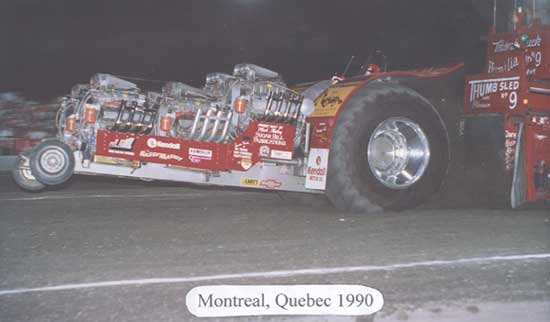 Return of the Country Girl- Rodalyn started driving and this was our first full season of running Grand National.
Points she was voted Grand National Rookie of the Year and finished 3rd in Points.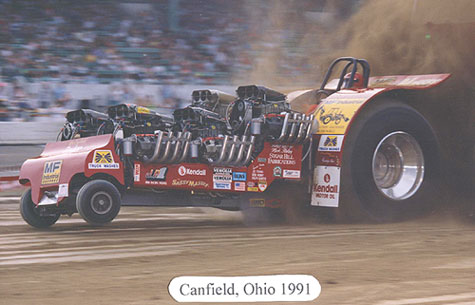 We pulled only the 9200 Pound Unlimited at Grand National Pulls and finished 3rd in the Points.
[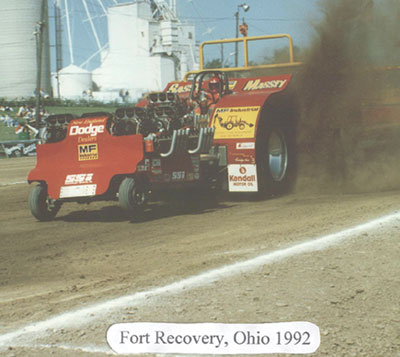 We built a new chassis for the new 8200 unlimited weight class and put on serial #1 SSI Hi-Helix Supercharger half way through the season. We finished 2nd in the Grand National Points.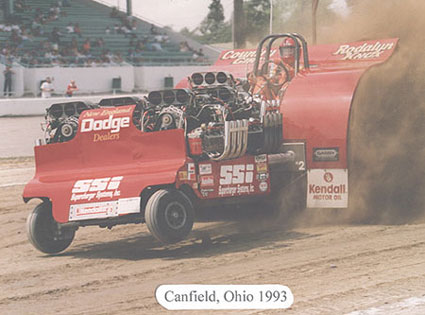 We finished 4th in Grand National Points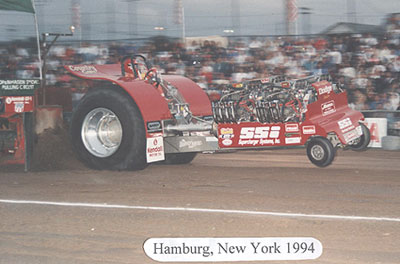 We ran a limited schedule only 12 hooks the results were: 7 wins (2) 2nd's (1) 3rd (1) 4th (1) 5th
We were also the Bowling Green Ring Winner.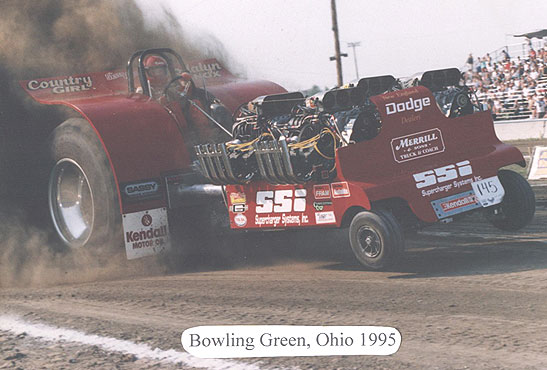 1st Grand National Championship 7600 Pound Unlimited Class.
[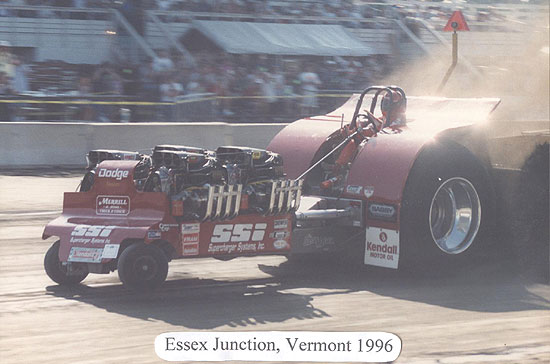 In 1996 we ran a limited schedule. We used this time to experiment with a new engine and fuel system technology.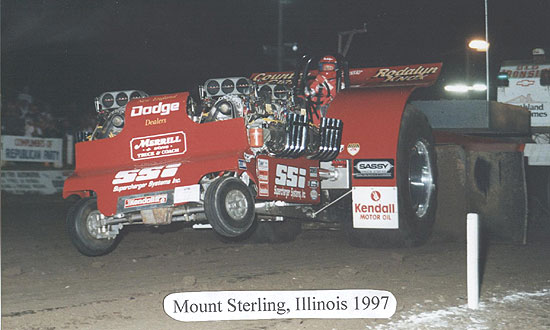 2nd Grand National Championship 7600 Pound Unlimited Class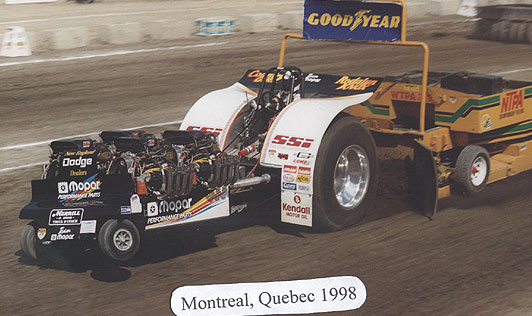 This was our 3rd Grand National Championship win in the 7600 Pound Unlimited Class. We then parted out the tractor and began full swing into our full time effort in the Hemi engine business.
Well… we hope you enjoyed your visit. Ah… what a life they have lived and still live. How many of us can say we "love our job"? They do! And they love to see "you" as customers achieve your goals and be the very best.
On the behalf of the Knox family…..we wish you the Best of Luck this season!